Teens Learn What Social Media Can't Teach
There were a few sprinkles, but not too many as I walked in the office at Discovery Ranch for Boys. The rain was just enough to put those annoying droplets on the inside of my glasses. So, I went through the ritual of pulling my glasses off, opening my glasses' case and retrieving that soft cleaning cloth that is like a mini micro fleece. I then proceeded to wipe the rain spots off my glasses and put the cloth back in the case.
As I stepped in the conference room, the meeting was already underway. Craig Smith, LCSW and Clinical Director had his group of seasoned clinicians around the conference table discussing the clinical needs of the students. There were many topics of discussion on the agenda, but one discussion stood out to me.
This particular discussion was about the fact that teen boys between the ages of 13 and 18 struggle sometimes with appropriate social skills.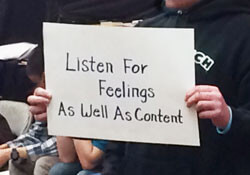 Teen boys who find themselves in a residential treatment setting with clinically complicated emotional concerns tend to need more help with social skills than the norm.
These therapists each take a turn running a weekly Social Skills group. This group not only involves the students, but the staff as well. Everyone can use a little reminder from time to time. I took a look at the list of social skill topics and was amazed. These are just a few of the topics discussed:
Active Listening
Social Cues
Body Language
Empathy
Appreciating Diversity
Bullying
Appropriate Social Media Use
Meeting Girls
Appropriate Phone Conversations
How to Apologize and Forgive
Developing a problem solving approach
Conflict resolution
Wendy Turnbow, PhD and one of the therapists mentioned while we walked to her office that;
"The students really get involved in these particular groups. They seem to really enjoy them. It's also good for the staff. Many of the mentors are in their early to mid twenties. It's good for them to learn or be reminded of these particular skills as well. As we all work together in developing healthy interactions, it not only fosters a positive treatment environment, it builds skills and competency for life."