Your son will thrive personally and academically while he is at Discovery Ranch. We offer a small, nurturing learning community. Your son will have a customized learning plan. He will be able to catch up, keep up with, or surpass his peers in traditional learning models. 
Academic Process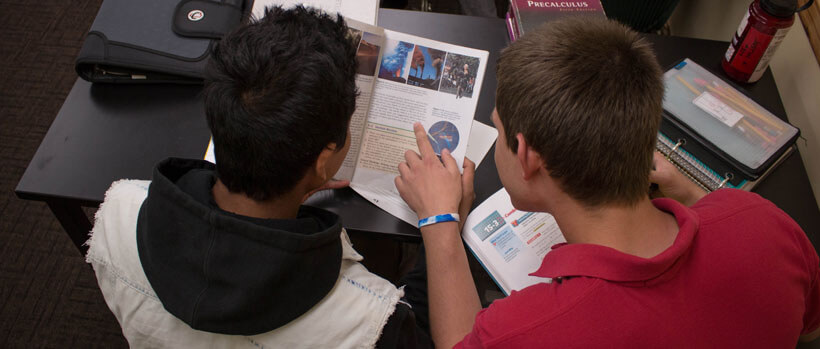 You and your son will work together with his therapist and academic director to design a customized Student Academic Plan. This learning plan outlines specific academic goals and the strategies to achieve them.  Because our program is competency based, your son can move quickly through subjects where he excels and spend more time in subjects where he struggles. He must demonstrate academic progress as well as therapeutic progress in order to receive level advancements. Most often, when students make progress in therapy, they make progress in school too. 
At Discovery Ranch, your son will be taught by licensed professional educators. Many of our teachers have Master degrees, multiple endorsements, or special education certificates. The academic staff has an average of 15 years teaching experience. The student-teacher ratios are approximately 12 to 1.
Your son will not have to sacrifice learning opportunities in order to address his therapeutic issues. The school day starts at 4:00 pm and ends at 8:00 pm. Fridays are reserved for academic experiential activities.
Your son will be able to work at his own pace.  Because each student's needs are different, we develop customized Student Academic Programs. As a result, we are able to challenge gifted students and accommodate students with IEP and 504 plans.
Because we know you care deeply about your son's progress, we created an online Parent Portal. The Parent Portal will give you access to weekly progress reports. Teachers will post your son's grades on a password-protected server. You will be able to see his progress or respond to notes from the faculty and your son's therapist.
Each week, your son will participate in experiential activities that enhance what he learns in the classroom. These activities have included problem-solving activities like building water bottle rockets or learning math by making gingerbread houses. Live animal shows, guest speakers, and trips to museums will bring the concepts he learns in the classroom to life. As a result, your son will rediscover his love of learning.
Discovery Ranch has successfully guided many students through high school completion. We have helped graduates transition to college, vocational training, and employment. Because of our history of success, we are certain we can help your son. If your son has special needs, he will receive appropriate academic support and structure. His customized learning plan will be based on his current Individualized Education Plan (IEP), 504 Plan, or psychological evaluation recommendations.
At Discovery Ranch, we understand you are trusting us with your son's academic future. We have worked hard to demonstrate that we are deserving of that trust. Licensed educators endorsed by the Utah State Office of Education teach our classes. While studying at Discovery Ranch, your son will benefit from a full curriculum outlined by Discovery Academy Education Services. This curriculum meets all Utah State Office of Education requirements. Furthermore, certified professional equine therapists and professional horse trainers run our Equine Experiential Programs.
Your son will have the opportunity to earn a high school diploma at Discovery Ranch.  That process includes earning 24 credits, primarily in core subjects such as math, English, social studies, and science; as required by the state of Utah. We consistently see SAT and ACT scores higher than national averages from the graduating students in our programs.