The therapy services at Discover Ranch are uniquely capable of addressing your son's needs. We use a combination of traditional therapy methods and experiential learning activities to create an environment in which your son will be most receptive to making positive changes in his life. As a result of our unique approach, your son will be involved in meaningful therapeutic experiences all day.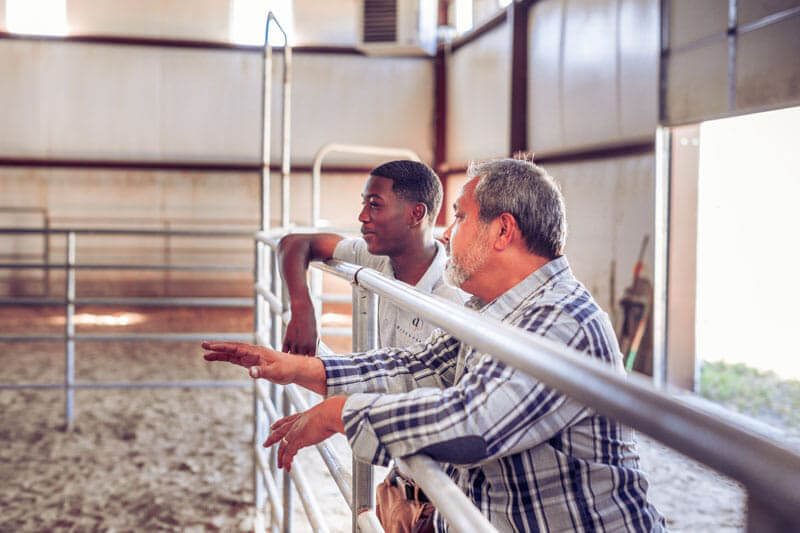 Formal Therapy
Your son's formal therapy might take place in an office, our 20+ acre area, or working on the ranch. Therapy includes individual, group, and family sessions. The combined sessions average approximately 20 hours a week. Your son will also join in a weekly process group that will help him identify his feelings and discuss problems. There are also specialized groups that include: adoption issues, eating disorders recovery, trauma recovery, coping skills building, self-harm prevention, team building, on-campus or off-campus 12 step AA/NA, and peer leadership training.
Individual Therapy
Discovery Academy students receive 1-2 hours of weekly therapy with their therapist in the form of a more traditional office visit, or as therapists and students participate in an experiential activity.
Mentors routinely discuss with therapists each student's progress and particular needs. During one on one interaction throughout the week, mentors are trained to look for teaching opportunities in the course of daily life experiences.
Group Therapy
Group therapy occurs during experiential activities and in structured settings as well. Some of the Academy's therapeutic groups include adoption, substance abuse, and relapse prevention.
Experiential Therapy
Your son will join in Experiential Therapy every week. He and his therapist might take part in equine therapy, a ropes course, or another recreational therapy activity. They will take your son out of his comfort zone so he can begin to address his issues. Our therapists, teachers, and highly trained staff are ready to help your son reach his potential.
Experiential Learning Activities will be part of your son's everyday life. He will be involved in learning activities like caring for bottle-fed calves, community service projects, a sports league, and peer leadership projects. These daily activities extend the influence of therapy, which takes place both inside and outside the office. This will make your son more willing to openly participate in discussions about his behaviors and emotions. In this way, he will have the opportunity to practice the therapeutic principles that he is learning all day long.
Family Therapy
We believe treating the student means addressing family needs as well. Each family participates in a minimum of one hour of weekly family therapy over the telephone.
We also have an Internet based parent portal. Parents can provide feedback on their child's weekly progress. Discovery's therapy team uses these comments when evaluating the student's readiness for level advancements.
Discovery Ranch treatment model is based on building strong relationships and helping your son discover his inner strengths. A cornerstone of our treatment model is Dialectical Behavioral Therapy (DBT), which is a form of therapy that will teach your son new coping skills and strategies that will help him succeed.
In addition to traditional therapy, your son will learn and grow through experience-based activities on our working ranch. Each carefully structured activity will give your son the opportunity to practice relationship skills in a variety of settings.
With the help of therapists and mentors, your son will be able to address his problem behaviors while he is most responsive to learning. Therapists or mentors will often stop an activity so he can focus on what he has learned. The therapists or mentors will ask, "What skills have you learned that you can use right now?"
Your son will be having new and exciting experiences while building relationships every day. He may not realize that therapy is taking place, but he will be learning the skills he needs for a successful future.
Through these therapeutic activities, we will teach your son principles needed to be a successful adult. These principles include honesty, respect, responsibility, hard work, service and sacrifice, accountability, courage, selflessness, and empathy. Our strength-based approach will help your
son recognizes the good in himself, while overcoming obstacles that are keeping him from success.
During the first week your son arrives at Discovery Ranch, your son will receive an evaluation from our licensed psychiatrist. This evaluation will help identify your son's needs.
The psychiatrist's main responsibility is to assess and adjust medications as needed. The goal is to make certain your son is on the lowest effective dosage of his medication. If at all possible, the psychiatrist will try to help your son function without any medication. The psychiatrist is also available to discuss any other areas of concern with students and families.
Generally, students meet with the psychiatrist each month. In some cases, your son might meet with the psychiatrist more often. For example, if your son needs adjustments to his medication, then he will see the psychiatrist more often. If your son needs more frequent visits, your family will not be charged any additional cost.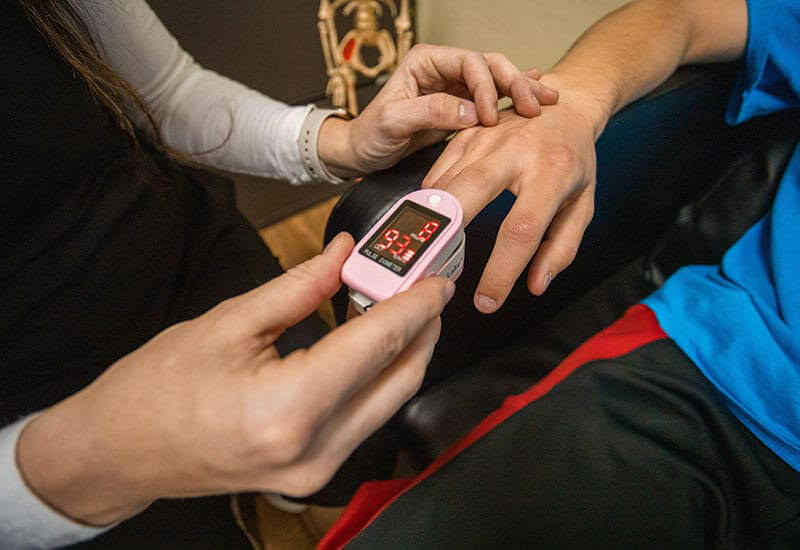 At Discovery Ranch, the nurse, psychiatrist, and therapists work together to provide the best treatment for your son's changing needs. Our licensed full-time nurse is on-site Monday through Friday, and on-call nights and weekends. Generally, the nurse is responsible for dispensing medications, monitoring nutritional concerns, and serving as a liaison between parents, physicians, psychiatrists and the treatment team. The nurse is also responsible for the assessment, development, and maintenance of the boys health and well-being. In addition, the nurse assists with training mentors in medication administration, proper hygiene, and documentation requirements.
Coed Conference Events and Activities
Your son's ability to build a healthy relationship with people of all genders is important. Discovery Ranch addresses this need through our Co-ed Conferences.
Your son will live with a small group of boys between the ages of 13-17. When your son is ready, he will have the opportunity to participate in co-ed activities with girls from another campus. The young women are from a separate program, located in a different part of the state of Utah. The boys' and girls' programs are run independently, and throughout the year the two programs coordinate and organize co-ed activities. Accordingly, staff from both programs supervise the activities.
When your son's therapist thinks he is ready, your son will have the chance to join the co-ed activities. Before he can participate, he must advance through the program and build trust. All the boys and girls involved in co-ed activities have proven to their therapists that they are ready to take this important step toward normalcy.
These activities might include zorb soccer, a beach party dinner, or a bonfire. Therapists and staff have observed the difference these co-ed activities make in the lives of the young men and women who take part in them. More importantly, the students themselves usually leave the activities feeling that they have grown.
Through our Hybrid Co-ed Program, your son will have the opportunity to practice building healthy relationships with other genders in a structured environment. You can have confidence in knowing your son is gaining important social skills in the safest, most clinically supportive environment possible.