Once a Troubled Teen, Kellie Finds Her Voice
by Leslie Giles, Residential Director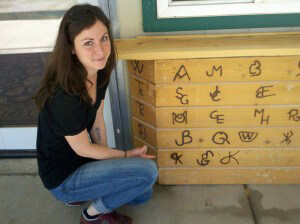 Kellie, one of our former students,  called Clinton and said she was moving from Vermont  to California and wondered if she could stop in for a visit. He told her ABSOLUTELY! Terri Miller, our residential supervisor, was taking the day off but found out Kellie was coming so she came in to visit with her. Kellie's boy friend was driving cross country with her and then when they got to California he was flying back to Vermont.
We were very excited to see and talk to Kellie. It has been 5 years and when Kellie left DR we were pretty sure we would not hear from her again. She looked fantastic! She talked about her journey after DR. It was amazing how open she was with us. When she saw Terri, she turned to her and told her she was sorry for things she had said to her and that it had bothered her for all those years. At that point, I was so grateful that Terri had come in to see and say hi to Kellie. Kellie needed to close that door and I know she knew that Terri had forgotten.
Before Kellie left DR, when she would talk you could hardly hear her soft voice. Kellie has a tattoo on the inside of her arm that says "Speak." This is to remind her to express herself and not keep everything inside. She told us that the most important thing she learned form DR was to take care of herself. (DBT Skill). She told Clinton and I that she still uses alot of her DBT skills (Craig wasn't even there when she said it).
Craig asked Kellie if she would be willing to go and talk to the girls. I could tell she wanted to but that she was nervous. We told her she did not have to but she decided to face the fear. (DBT) We formulated a escape plan if she started to feel overwhelmed. If she said Pineapple (inside joke and also a special DBT skill made up by our nurse, Somer) we would get her out of there. Well, no rescue needed. She did great and the girls loved it!
We asked Kellie if she would like to brand the wall. We did not start branding the wall until after our first few kids left and we decided that we needed to honor those that came through Discovery Ranch. Kellie said yes! She and Jerry worked on her design and she put it on "The Wall".  It was great to see her. She is an amazing person and we are proud of the person she is today.