Our National Day of Service and Remembrance at the Ranch – 9/11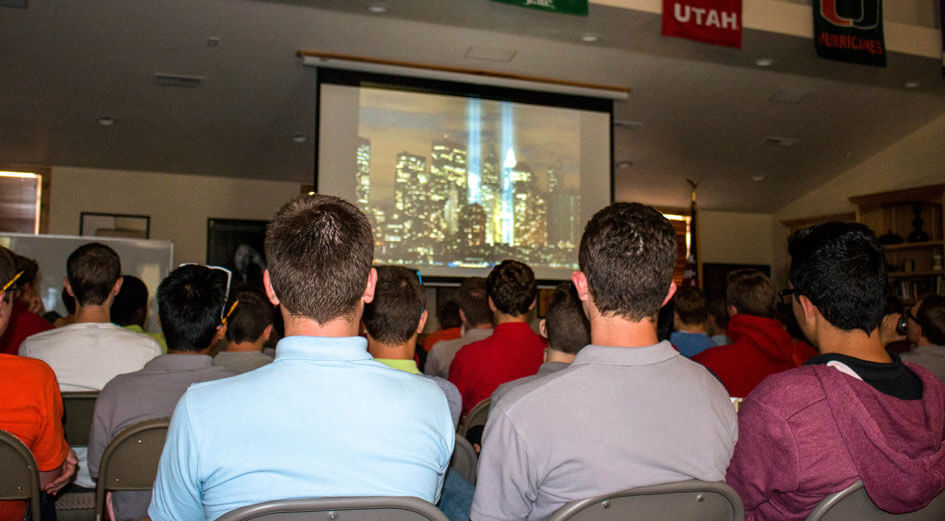 A Day of Remembrance – and love for the freedoms we have.
Friday September 11th, Discovery Ranch invited the Utah county K9 Unit to come and do a live demo for our boys. One of our staff is a retired K9 Deputy. She invited the officers to talk with the boys about what the dogs and officers have to go through to be part of the dog bomb squad or to be a drug dog. The dogs and officers performed multiple demonstrations such as having a dog find hidden objects in the trees and bushes, or follow certain commands. They ended their demonstration with an officer in a padded suit for the dog to attack as if he was a suspect!
In the afternoon Discovery Ranch held a special assembly for the boys remembering the events that occurred on September 11th, 2001. For over an hour the entire room a remained silent as 60 boys listened intently to what occurred on that day. Most of our boys were only 3-5 years old in 2001 so they don't remember much from that fateful day. They were able to watch video clips, interviews, live footage, and read specific facts of what happened on that early fall morning. The presentation ended with a live performance of the song, "God Bless the USA" song Wikipedia by one of the DR employees while a video presentation was being played; this was followed by a moment of silence for all those who lost their lives on that tragic day. You could see and feel from all of our boys great respect, strength, and love for the freedoms we have.