FUN Friday – Our monthly Way To Celebrate And Relax At The Ranch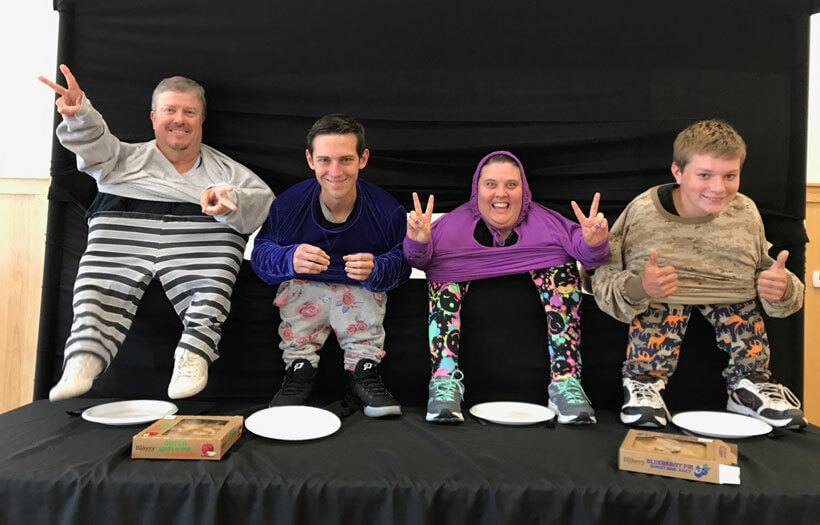 FUN Friday – Our monthly Way To Celebrate And Relax At The Ranch
Everybody at Discovery Ranch works hard. So, once a month they have a special event called a Fun Friday to celebrate their accomplishments and relax. I was lucky enough to be invited to one of these events. Let me tell you about it.
Videos
I arrived while the seats were being set up in the Commons. Two of the young men helped recreational therapists Megan and Tessa set up chairs. Both of the young men behaved like helping make the arrangements was a privilege rather than a chore. They were polite and respectful, taking care so that the chairs were set up so that each person had a "window" through which to view the stage.
When the chairs were in place, everybody piled into the Commons to watch video clips. There were a variety of funny, short video clips, including scenes from "Elf" and "The Office".  Based on the laughter, the clips were well-chosen.
What I found more interesting was what happened during intermission. There about a ten-minute break while the next part of the entertainment was being arranged. The boys had the chance to hang out and chat. And that is what they did, they hung out. They talked. They enjoyed being in each other's company.
That might not seem significant, but largely, boys did not come to the ranch by choice. They are "troubled teens". I would have expected to see animosity of people who did not want to be together. That wasn't what I saw. I saw friends chatting. I saw happy, normal teens having a good time.  
Skit
Then came the most entertaining part of the day, which was the improv "puppet show". The puppets, in this case, were people. Experiential Director Jerry Christensen, Chef and Culinary Class Teacher Anna Keddington and two students "stood" on a black stage with a black backdrop. Each person looked only a few feet tall. This effect was achieved by pushing their arms through a slit in the backdrop. The arms had been pushed into trousers and shoes to make feet.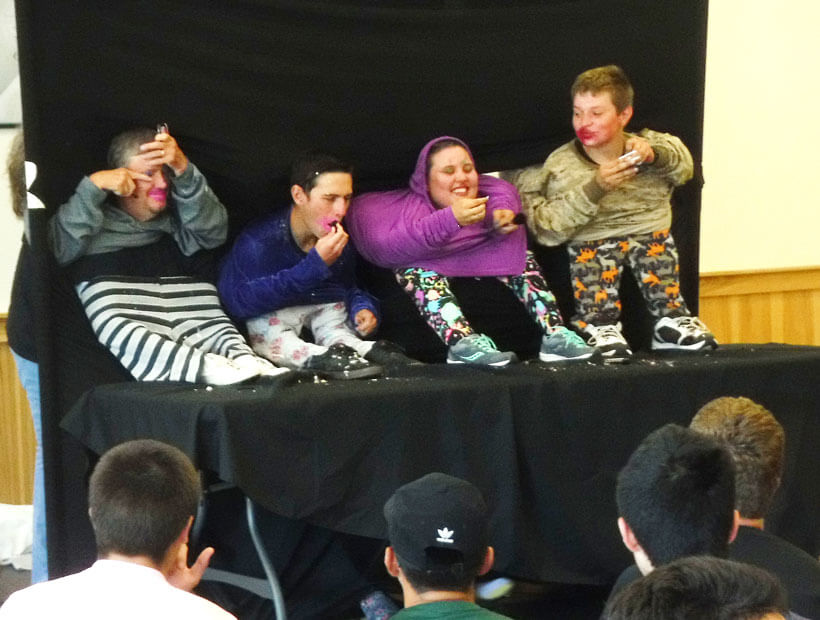 Each person on the stage had another person standing behind them. The people behind the scenes shoved their arms through an opening in the backdrop too. Their actual arms were dressed in shirts and provided the pretend arms for the tiny people puppets.
The puppets went through a variety of activities, like eating messy food, putting on makeup, and telling a story. During story time, the players hand movements had to match the story that they were telling. Also, the players had to make sense of the things that their arms were doing. The improv skit ended with a dance-off with each of the people puppets dancing to pop songs.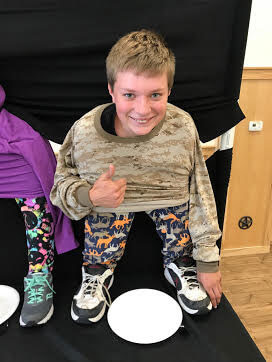 Ice Cream and Pizza
After the skit, it was time for ice cream sundaes. It was a dessert first kind of day. The boys were called up table-by-table to get big bowls of chocolate and vanilla ice cream, flavored syrups, and a banana.
The conversations around the tables were rowdy, but no more so than around a table at a big family dinner. There was ice cream left over, so boys were invited to get seconds. The higher levels were called up first. Surprising for a big group of teenage boys, most of them chose not to get seconds. The nutrition classes must be paying off.
Applause broke out when the pizza guy arrived. Three tables were piled high with boxes and boxes of pizza stacked on top of each other. Boys were called up by table again. Each one was allowed four slices of pizza and a salad. The salad, made by our own Anna Keddington was my favorite part.
The most remarkable thing about the Fun Friday was how unremarkable it was. The boys were not acting like "troubled youth". They acted like any group of teens gathered together to have a good time, in fact, they were better behaved than most groups. The boys seemed to genuinely like each other as well as like and respect the staff. Fun Friday lived up to its name.