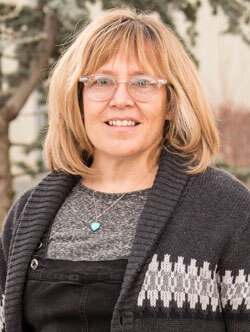 Tina Hansen
Teacher
Tina Hansen started her teaching career after graduating from Brigham Young University with a degree in History/Geography Secondary Education. Teaching jobs were scarce, so she started working in the technology sector. She spent 10 years at local software companies in tech support, sales, and marketing followed by another seven as a marketing manager with a Provo-based nutritional supplement company.
Eleven years ago Tina started working as a substitute teacher. Through the Utah State Alternate Route Licensure program, she completed her degree in elementary education to teach grades first through eighth. Since then she has taught 5th grade and completed a math endorsement from Utah State University. Currently, Tina teaches Math Essentials, 7th and 8th-grade math in a local middle school, and English and Social Studies for the past six months at Discovery Ranch.
The most important things to Tina outside of school are her five adult children, one granddaughter and a husband who is an engineering geologist. The entire family spends time mountain biking, vacationing at Disneyland as much as possible and going to concerts at the local music venues.