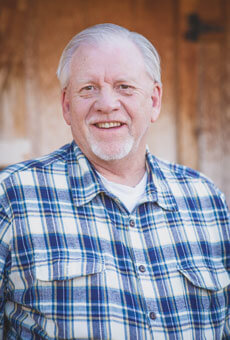 Ray Orbin, LCMHC
Therapist
It is obvious when you walk into Ray's office…there are bears everywhere. There are pictures of bears, carvings of bears and bear figurines on his desk. When asked why, he says bears have always been dear to him ever since he was a kid. His nickname growing up was "Bear".
It was his roots in Missouri, being raised on a large farm with horses and cattle that drew Ray to Discovery Ranch. With over thirty years experience working with youth and their families, Ray is able to bring a seasoned approach to the therapeutic issues facing the students and their parents.
Starting out in Education, Ray went on to get his Masters Degree in Psychology and has become a Licensed Clinical Mental Health Counselor. Over the years Ray has been the clinical director at two different organizations so he brings to the students a wealth of knowledge, understanding and clinical expertise.
Ray and his wife own six horses they love to ride and train when not involved in their children and grandchildren's numerous activities.