Physical and mental health go hand in hand. Discovery Ranch students get plenty of opportunities for exercise and healthy eating.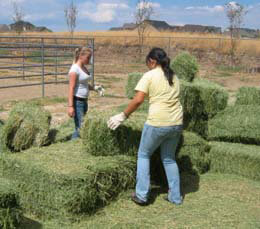 Our fitness facility offers weight training and cardio activities. Students also enjoy basketball in the indoor gym. Many of our students re-discover childhood games like jumping rope, tether ball, and even hopscotch. And there's nothing like hauling hay to build your biceps!
Level appropriate students may also participate in and train for area 5K races that promote a variety of charitable causes.
All that work and play can build up quite an appetite. Discovery Ranch menus are approved by a dietician. We offer flexible eating programs to meet specific needs. A salad bar is included in two meals each day and fresh fruit is always available for snacks.
We invite you to get to know us better by exploring our website, or, if you prefer, calling our admissions department at 855-662-9318.
The Strength is in the Struggle™