Treatment Model
The Discovery Ranch treatment model is based on building strong relationships and helping your son to discover his inner strengths. A cornerstone of our treatment model is Dialectical Behavioral Therapy (DBT), which is a form of therapy that will teach your son new coping skills and strategies that will enable him to succeed.
In addition to traditional therapy, your son will learn and grow through experience-based activities on our working ranch. Each carefully structured activity will give your son the opportunity to practice relationship skills in a variety of work and play settings.
During this process, your son will have the opportunity to see the impact of his behavior as it happens. With the help of therapists and mentors, your son will be able to address his problem behaviors while he is most responsive to learning. Therapists or mentors will often stop an activity so he can focus on what he has learned. The therapists or mentors will ask, "What skills have you learned that you can use right now?"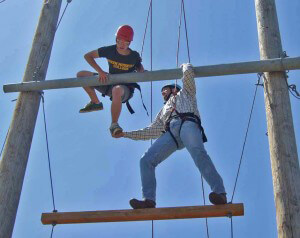 Your son will be having new and exciting experiences while building relationships every day. He may not realize that therapy is taking place. However, he will be learning the skills he needs for a successful future.
Through these therapeutic activities we will teach your son principles needed to be successful adult. These principles include: Honesty, Respect, Responsibility, Hard Work, Service and Sacrifice, Accountability, Courage, Selflessness, and Empathy. Our strength-based approach will help your son to recognize the good in himself while overcoming obstacles keeping him from success.