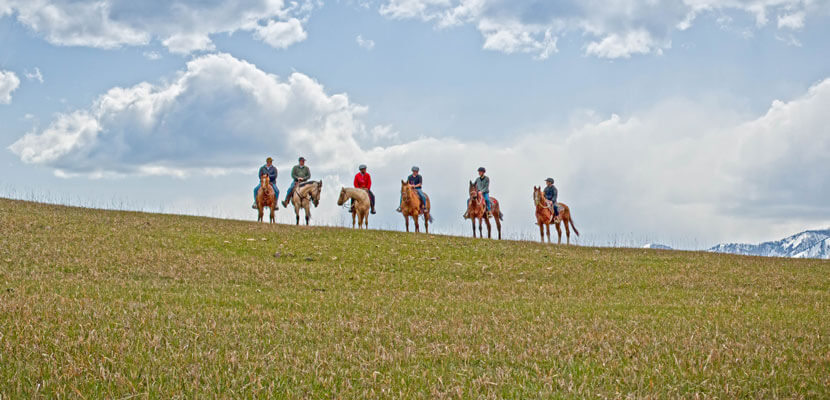 Equine Therapy
If your rebellious teen is struggling to find the path to a healthy life, it might be about time to put him on a horse. Literally. Equine Therapy has remarkable success in helping troubled youths saddle up and take charge of the challenges that they face in their daily lives. Part of the reason that Equine Therapy is so successful is that it is subtle. While students are learning how to handle a set of reins, they often don't notice that the horse is teaching them how to rein in their impulses.
Putting the Experience in Experiential Therapy
Whether on the ropes course, or the sports field, or volunteering in the local community, Discovery Ranch for Boys (DRB) gives young men the opportunity to learn by doing. Boys put the principles that they learn in the therapist's office and classroom into practice in the real world. This way, boys are not merely learning therapeutic principles, they are living them.
"We give boys the information. Then we give them the experience," said Experiential Director Jerry Christensen. "We want that experience to innately teach them as much as possible, naturally. Then we take that moment, and we add to it by giving them a mature perspective on that experience, and help them understand the principle.."
Learning How to Equine Therapy
The biggest difference between Equine Therapy and these other forms of Experiential Therapy is, of course, the horse. These gentle giants are naturally social animals, and highly attentive to the behavior of anything around them. Horses, after all, are prey animals. Awareness, for them, is a matter of survival. In horses and people, fears influence behaviors.
Because horses are attuned to the people around them, horses provide excellent mirrors for human behavior. In watching the way your son handles the horses and other two-legged members of his Equine Therapy group, your son's therapist and horse professional will gain valuable insight into your son's strengths and challenges. These professionals can guide a discussion about your son's motivations and behaviors. This discussion will make it all the more clear to your son which behaviors need to change.
Wrangling Success
Jerry has seen the difference that Equine Assisted Therapy can make in a boy's life. The positive changes he has seen during his 30 years of experience motivate him to continue helping boys. During the interview, he told the story of a young man we will call E. E spent 12 months at DRB before graduating.
When the young man first came to DRB, his first job was simply to feed the horses. "His first experience with [a horse], he would not get within 35 feet of the horse," said Jerry.
However, something changed in the young man during the time he was at DRB. He developed strong relationships with the staff members and the horses themselves. He progressed through the program, eventually becoming a horse wrangler. A horse wrangler is one of the most challenging positions at DRB.
"He advanced as far as he could," Jerry said proudly. His eyes twinkled when he talked about the young man's success.

Several months after graduation, E phoned to talk to Jerry. Since leaving DRB, E took a job working with polo horses. While E said that he preferred western riding, it was apparent that the experiences he gained during Equine Therapy changed the direction of his life for the better.
Not everyone who participates in Equine Therapy is going to grow up to be a cowboy, a horse wrangler, or polo trainer. However, just about everyone who participates in Equine Therapy will benefit. While your son might not leave Equine Therapy ready to ride off into a technicolor sunset and a problem-free future. In fact, that is almost certain not to happen. However, the patience and problem-solving skills that he learns from his two-legged and four-legged companions during Equine Therapy will help to prepare him for whatever challenges his future might bring.