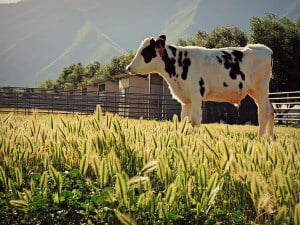 Responsibility is a close cousin to empathy. Discovery Ranch students learn both as they participate in our Calf Rescue Program©.
Upon arrival, each student is assigned a newborn dairy calf. The calf has been orphaned so that the cow's milk can be used for dairy products. These day-old calves are adopted by Discovery Ranch students. The calves are vulnerable and completely dependent upon our students for their survival. They must be bottle fed a milk replacement twice a day, every day. The wobbly babies almost immediately bond to their new surrogate parents.
As students work with their calves they experience unconditional love, both giving and receiving. While they innately want to help the little animals survive and thrive, it's a struggle to care for something besides themselves. They learn to be responsible, no matter what they weather. They find purpose in the work required to care for their calves.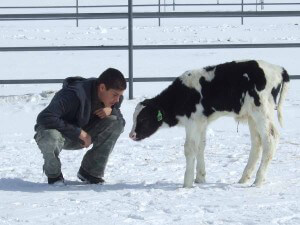 Our students develop skills and their self-esteem grows as they see their calves become stronger and more independent. The daily routine of caring for something besides themselves inspires empathy, service and sacrifice. While they once viewed themselves as the center of the universe, students now feel a sense of accomplishment and satisfaction in their ability to put another's needs above their own.
After about four months, the calves are sold to area ranchers. Occasionally, some of the calves die in infancy. Both of these events provide an opportunity for students to experience grief and loss in an emotionally supportive environment. Rather than protect them from the realities of life and death, Discovery Ranch uses the calf rescue program as a tool to help student understand grief and loss, attachment and detachment. They learn to apply that understanding in other relationships and transitions.  Our calf rescue program is especially effective for students who have been adopted.
We invite you to get to know us better by exploring our website, or, if you prefer, calling our admissions department at 855-662-9318.
The Strength is in the Struggle ™