The Discovery Ranch treatment model is relationship based experiential therapy with a strength-based approach. Dialectical Behavior Therapy, or DBT, is a cornerstone of that foundation. We use a combination of traditional therapy methods with experiential therapeutic activities for real time, or in the moment, learning. The experiential approach is especially effective with treatment resistive students.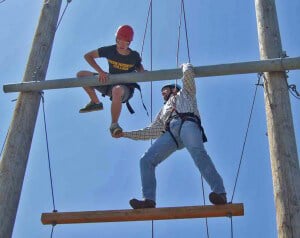 Our strength-based approach helps students recognize the good in themselves as they work to overcome obstacles posed by various emotional and behavioral diagnoses. They develop self-confidence as they experience success in experiential assignments.
Our working ranch campus provides the setting for those experiences. Each carefully structured activity gives students an opportunity to practice relationship skills in a variety of work and play settings.
Through these therapeutic activities, we teach students life principles that are true for everyone, everywhere. We apply those principles to every situation our students may encounter during the course of their day. Therapists and mentors work with students until each principle is mastered. Those principles are:
Honesty
Respect
Responsibility
Hard Work
Service and Sacrifice
Accountability
Courage
Selflessness
Empathy
Discovery Ranch students learn and practice these principles in an environment that replicates the responsibilities of adult living. During the process students, therapists, and mentors have a real time opportunity to see the impact of behavior as it happens. They can address a student's behavior or concerns at the moment the student is most receptive to learning.  Therapists and mentors will often stop an activity or conversation and ask a student, "What skills have you learned that you could use right now?"
For Discovery students, motivation for therapeutic change comes from within the student, not from external pressures trying to exert internal change.
We invite you to get to know us better by exploring our website, or, if you prefer, calling our admissions department at
855-662-9318.
The Strength is in the Struggle™