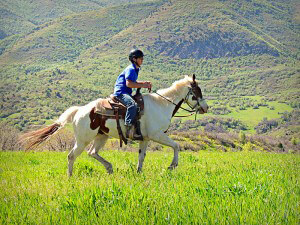 All Discovery Ranch students are required to participate in 12-16 weeks of Equine Assisted Psychotherapy, or EAP. Equine therapy teaches students about themselves and others using several horses. Students are required to get the horses to perform certain tasks. They are given a specific set of rules and choose their own consequences if the rules are broken. After each activity, they process, or discuss, the experience and their thoughts and feelings with horse professionals and therapists.
Horses provide an emotionally intense opportunity for students to overcome fear and develop confidence. The size and power of the horse are naturally intimidating to many people. Accomplishing a task involving a horse, in spite of fear, creates confidence. It also makes for wonderful metaphors when dealing with other intimidating and challenging life situations.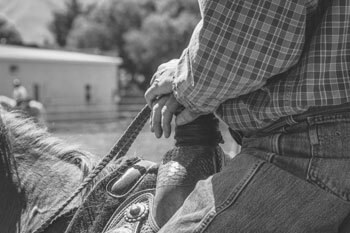 The goal is not to teach students how to maneuver horses. The goal is to help students identify and face their emotions. An experience with a stubborn horse suddenly helps them empathize with parents who may have felt similar frustrations dealing with a stubborn teen.
A therapist and horse professional participate with the students in each session and provide real time feedback during the activity and afterwards. The activity and ensuing discussions help students learn to recognize and regulate their emotions. It also helps them recognize their strengths and weaknesses.
---
We invite you to get to know us better by exploring our website, or, if you prefer, calling our admissions department at
855-662-9318
.
The Strength is in the Struggle™